Hi everyone and happy Monday :)
I hope you had/have/will have (depending on where you live in the world) a great start into the new week!
Today I am sharing a card with you that I've made for this weeks CASE Study challenge.
Again, there is a gorgeous card from Angeline Young to CASE and I have to say I wanted to do something totally different in the beginning and ended up with CASEing almost everything *lol*
Ok, I did not use kraft cardstock, but some beautiful patterned papers from Carta Bellas "Traditions" collection. First I wanted to use a gorgeous bird that was on the "Elements" sticker sheet, but when I tried to adhere it to the card I noticed that it's way to huge :-/ Then some some small circle flower stickers on the same sticker sheet caught my eye and so I decided to CASE Angeline's flower design, too. I just did not use a stamp, but the flower stickers and I drew the stemps with a black Pitt pen.
Added a bit of faux stitching (it sometimes seems to be addictive for me *lol*) and a Birthday sentiment stamp from Whimsy Stamps and a little bit of bling bling... and here you have my entry for CASE Study :)
This is Angelines absolutely gorgeous card:
Das ist Angelines absolut einzigartige und wunderschöne Karte:

Hallo zusammen und Euch allen einen wunderschönen Montag :)
Ich hoffe Ihr hattet/habt/werdet noch (je nachdem wo auf der Welt Ihr lebt) einen tollen Start in die neue Woche!
Heute zeige ich Euch eine Karte, die ich für die Challenge bei CASE Study diese Woche gemacht habe. Wieder einmal ist es eine wundervolle Karte von Angeline Yong, die ge CASEd werden soll und ich muss sagen, das ich zu Beginn etwas völlig anderes machen wollte und am Ende ist dann beinahe eine wirklich komplett nachgemachte Karte rausgekommen *lol*
Ok, ich hab' keinen Kraft Cardstock benutzt, sondern ein paar der schönen gemusterten Papiere aus der "Traditions" Serie von Carta Bella. Aber zuerst wollte ich einen wundervollen Vogel, den ich auf dem "Elements" Sticker Sheet erspäht hatte verwenden. Aber als ich den dann auf die Karte aufbringen wollte, habe ich festgestellt, das der viel zu groß für die Karte war :-/ Aber dann sind mir ein paar kleine runde Blümchen Sticker auf demselben Sheet ins Auge gefallen und so habe ich dann beschlossen auch Angelines Design mit den Blümchen nachzumachen. Allerdings habe ich dafür keinen Stempel benutzt, sondern eben besagte Blümchen Sticker und hab' dann die Stiele mit einem schwarzen Pitt Stift selbst gemalt.
Dann hab' ich noch ein wenig "faux stitching" hinzugefügt (manchmal scheint das für mich wie eine Sucht zu sein *lol*), einen Geburtstags-Stempel von Whimsy Stamps und noch ein bisschen Bling Bling und fertig war mein Beitrag für die CASE Study :)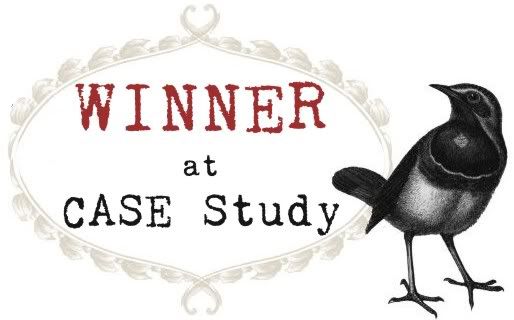 card recipe:
~°~ Thanks for visiting my blog ~°~